With November comes the darker mornings and progressively darker evenings, a bit of a culture shock for us as we have been used to longer days. However as with everything else concerned with moving back to the UK, us and the animals are taking it all in our stride.
One of the big differences now is that it is getting colder and we need the heating on most if not all of the time. However in the living area, we only have the log fire for heating. So one urgent fix for Richard was to install a radiator here so the area was not cold all the time; it only took Theresa a "short while" to realise it wan't so cold, and why!
The Annex has progressed quickly with all the majority of work finally being finished and the finishing touches being added. Theresa's Mum came for her 80th birthday so we needed this finished for her.
This weekend arrived soon enough with them all arriving on the Friday before. All went well and "a good time was had by all".
The next Monday we took the dogs for a walk, and on the way back we stopped the car to allow a car to park, however the van behind us, to quote him, was not looking at us but at a pedestrian on the road, so BANG! we get a strong hit in our boot. The car was badly damaged  and we were supposed to be taking Theresa's Mum to Swansea the next day, no the question was how?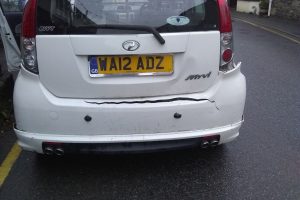 There was no issue that it was his fault, so he arranged for his local mechanic to "fix" the car to make it safe and OK to drive for us and then we can decide what we wanted to do.
Work has now been focused on the main house. Initially Richard has been replacing the old rotten back door & window into the lean to at the back of the house. Theresa found a UPVC door & frame on "Marketplace" and this has now been fitted, with the old window gap filled in with wood cladding and insulation to help keep the area a bit warmer. Although with the colder weather the dogs are now sleeping indoors.
However instead of going to Swansea, Theresa's Mum went to the doctors and then was admitted to hospital!  After numerous tests it turned out she had this years Flu virus, no she didn't have the jab as she didn't believe in them, she does now!! Problem now we all have it and is not pleasant.
The rest of November was more or less written off with the Flu, not a nice thing to have and being too ill to do anything!
Roll on December and better health!